Year 11 GCSE Mock Examinations 2022
Your child will be taking mock examinations over a 2 week period, commencing 7th November through to 18th November 2022.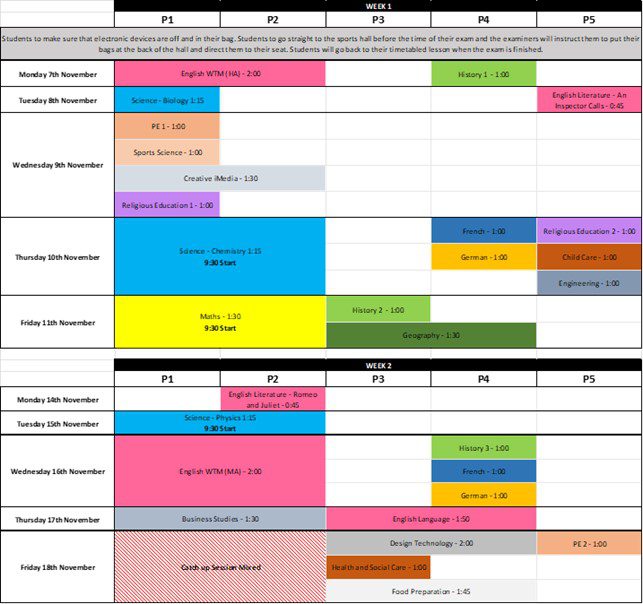 Our vision is to improve the life chances of every student, and we believe that these examinations are essential practice for the real GCSE examinations in the summer of 2023. They also allow us to measure progress and help to identify any students that need extra support.
We aim to make the experience as authentic as possible. All examinations will take place in the Sports Hall or Gym.  Please ensure that your child is aware of the following rules:
Students must arrive on time for the start of exams.
Students are not permitted to communicate with each other in any way whilst in the examination room.
Students must remain silent whilst in the examination room.
Food, sweets or chewing gum are not allowed in any examination.  Students may bring a drink (water only) in a clear plastic bottle with a screw top and label removed.
Students must only bring authorised equipment into the examination room.  This includes pens, pencils, rulers and calculators (if allowed).  The equipment should be in a clear pencil case or bag.
Students must not bring any unauthorised devices or materials into the examination room. This includes mobile phones and other digital devices, watches, bracelets and revision notes.
Unauthorised devices or materials must be left in bags or coat pockets or handed in before the examinations start. Bags and coats will be locked away in a separate area.
Once papers are collected students must return to their normal lessons.
If students are not in a timetabled exam, they will be in lessons as normal.
Please encourage your child to prepare for these examinations. Thank you for your continued support.
GCSE/Level 2 Examination Results 2022
We are incredibly proud of all our Year 11 students who have faced the challenges and uncertainties of the last two years brought upon us by the Coronavirus pandemic.
The qualifications that our students have achieved will enable them to access their preferred pathways in September, whether that be further education, training or employment, and to realise their potential and ambitions as young adults.
These examination results – the first official results for two years – are testament to our students' hard work and resilience as well as the support and commitment of our staff in helping to realise our academy's vision: to improve the life chances of all our students.
I am absolutely delighted to announce that our results are comparable to the last set of official results in 2019 which illustrates that, despite the disruption of the last two years, we have maintained our high and improving standards,
a fact that was confirmed by the Ofsted inspection earlier this year.
Indeed, our average points score per student is higher than in 2019, and I am especially pleased that nearly a quarter of our students achieved a grade 5 in both English and Mathematics (an increase of 6% since 2019). Moreover, both of these headline results, and our Ebacc average points score, exceed the FFT targets set for the school. In addition, 45 students (nearly 23% of our cohort) achieved at least one grade 7.
Whilst there are many success stories, I would like to highlight the following students for their phenomenal performances:
Jaskiren K – seven subjects at grade 7 or higher, including three grade 9s.
Ella D – seven subjects at grade 7 or higher, including two grade 9s.
Surpreet K – six subjects at grade 7 or higher, including three grade 9s.
Michela B – six subjects at grade 7 or higher, including a double grade 9 in Science.
Tyler G – three subjects at grade 7 or higher, including a grade 9 in Mathematics.
Gurditt S, Gurleen K, Leah E and Michael W – five subjects at grade 7 or higher.
Aleksandra G, Jack D-W, Lewis S and Yara S – four subjects at grade 7 or higher.
Amarachi O, Eryk L, Gurveer K, Ryan G – three subjects at grade 7 or higher.
Sahilpreet S and Rashmeet K – exceeding their targets in every subject by between 2 and 4 grades.
Well done to all of our Year 11 students. We are very proud of you and it has been a privilege to have you as part of the CODA community. All the very best for the future.