Year 11 Mock Exams November 2021
Your child will be taking mock examinations over a two-week period, commencing Tuesday 16th November 2021.
Our vision is to improve the life chances of every student, and we believe that these examinations are essential practice for the real GCSE examinations next summer. They also allow us to measure progress and help to identify any students that need extra support.
We also have to consider the possibility that the final examinations could be disrupted again next year and that these mock examinations would be used as evidence when awarding grades. It is therefore essential that students prepare for them as if they were the "real" examinations.
We aim to make the experience as authentic as possible. All examinations will take place in the Sports Hall or Gym and will adhere to social distancing rules.  Please ensure that your child is aware of the following rules:
Students must arrive on time for the start of exams.
Students are not permitted to communicate with each other in any way whilst in the examination room.
Students must remain silent whilst in the examination room.
Food, sweets or chewing gum are not allowed in any examination. Students may bring a drink (water only) in a clear plastic bottle with a screw top and label removed.
Students must only bring authorised equipment into the examination room. This includes pens, pencils, rulers and calculators (if allowed).  The equipment should be in a clear pencil case or bag.
Students must not bring any unauthorised devices or materials into the examination room. This includes mobile phones, watches, bracelets and revision notes.
Unauthorised devices or materials must be left in bags or coat pockets or handed in before the examinations start. Bags and coats will be locked away in a separate area.
Once papers are collected students must return to their normal lessons.
If students are not in a timetabled exam, they will be in lessons as normal.
Thank you for your continued support.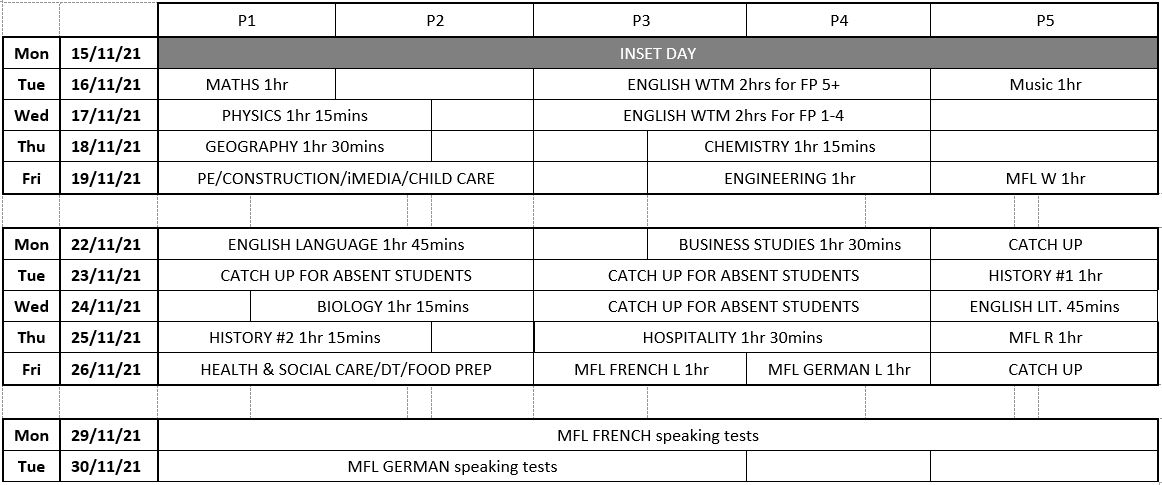 GCSE/Level 2 Examination Results 2021
The City of Derby Academy were delighted and proud with the examination results achieved by our Year 11 students in the last academic year.
Our students' fantastic qualifications will enable them to be successful in their post-16 pathways of choice and take one more step to achieving their personal aspirations.
We can only imagine how difficult the pandemic has been for students across the whole country.  Students' belief, resilience and wellbeing have been challenged to a level we could not imagine.  However, at CODA, we have nurtured and developed both academic and personal skills.  These skills and qualities were reflected in their examination results.
The school vision of 'Improving life chances for all students' is at the heart of everything we do and with the support from our wonderful staff, home and the wider community, students have left CODA ready for their next stages in life.
Well done to all, we wish you all the best for your future.
Phil Smith, Headteacher said:
"I am exceptionally proud with the achievements and examination results that our Year 11 students have been awarded.
The pandemic has provided significant challenges and disruptions.  Therefore, I am especially delighted with how our wonderful students have adapted to these challenges and been rewarded for their courage and dedication.  I would also like to recognise that our Year 11 students have also overcome these adversities with a positive manner: remaining happy and fully engaged in the wider aspects of school life.  Well done to you all, I am incredibly proud of you, and you should all be proud of yourselves.
Following the cancellation of exams, grades were awarded through a process of teacher assessed grades, against a national standard which was moderated through the exam boards, ensuring that the grades awarded are accurate.  I would like to thank all of the staff at CODA for 'improving the life chances of our students' as they have worked tirelessly to ensure that all students are able to progress onto their next chapter in life with the personal and academic skills that are needed.
Although we cannot compare results to previous years, the results that our students have achieved demonstrate that CODA continues to 'improve life chances for all students'.  Half of our students leave with a grade 4 pass in both English and Mathematics and a quarter leave with a grade 5 pass in both English and Mathematics.
I am especially proud that 20 different students achieved the top grade of a 9, or grade 9 equivalent.  Also, 48 students achieved at least one grade 7 or above, this is over one quarter of the year group.
Although there have been many success stories, I would like to highlight the following students for their phenomenal performances which included the following grades: A Kumar who achieved four grade 9's and three grade 8's; H Kaur, M Saini and G Singh who achieved two grade 9's; P Singh, A Singh, R Raj, G Kaur, K Shanker, L Fletcher, and S Khan who achieved one grade 9 and other grade 8's.
Well done to S Bolton, A Dixon-Muir, N Greatorex, S Manger, A Prcic, S Singh, E Watson and R Zafar who also achieved a fantastic set of results which included a grade 9.
In addition, many congratulations to Z Azhar, A Bolton, J Bowler, G Gill, M Irfan, S Jandi, V Mhango, I Pabla, N Piggott and A Saini who have achieved an impressive set of exam results including a number of grade 7's and/or 8's.
I would also like to give a special mention to S Pearce and M Grainger who have achieved a pleasing set of results despite many additional challenges.
Well done to all of our Year 11 students.  It has been a privilege to have known you and the CODA community wishes you all the very best for the future."