We enforce a strict uniform and presentation policy at the City of Derby Academy.
Uniform requirements:
School Uniform
City of Derby Academy blazer
City of Derby Academy tie
Smart black trousers or skirt (must be a sensible length skirt and not stretchy material)
Plain white school shirt (not polo t-shirt)
Suitable dark socks or black tights
Sensible all black school footwear
PE Uniform Requirements, please view document below;
GCSE and Examination PE Kit
The PE department would like to offer your daughter/son the opportunity to have and to purchase Examination PE kit. Students will be able to wear this kit during both their Core PE lessons and any practical examination classes. As a school we have committed to buying all students a black Nike hoodie with their initials and name on the back. There are also other Nike branded items such as T-shirts, long sleeve tops, leggings and tracksuit bottoms available. This is, of course, all optional and completely your choice to purchase. Please see below the process of ordering the kit.
The GCSE PE and Dance course kit will consist of; a black Nike dri fit, polo shirt, or long sleeve top with embroidered school logo, course details and student's initials on the front and also a black Nike pullover hoodie, with the school logo and the option of a name or nickname on the back. In addition, there is also the option of embroidered black Nike shorts or black Nike track pants.
If you would like to purchase any of the sports kit, please go to www.lisssport.co.uk –
Click on the schools and colleges tab
Find City of Derby Academy in the drop down menu
Click on your child's course and follow the instructions
Please make sure you choose the right course your child is studying
Additional Items
A dark coloured, rucksack style, bag suitable for carrying A4 books and equipment.
A warm, dark coloured coat for travelling to and from the Academy.
Students can wear a watch and one set of small stud earrings and/ or one small item of religious jewellery.
Students should not wear excessive make up or brightly coloured nail varnish. Nails need to be of an appropriate and safe length.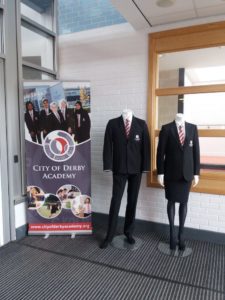 Our uniform supplier School's In have confirmed that there will be no uniform pop-up shops on school premises for the foreseeable future. However, you can still order uniform online for home delivery, please visit:
https://www.schoolsinuniform.co.uk/