Easter School
An opportunity will be provided during the Easter break for Year 11 students to attend Easter School, they may be working on assessments, skills or coursework which will support the improvement of your child's studies.
It is extremely important that your child attends all the sessions that they are invited to. In the rare situation that a student is invited to two sessions at the same time, then students should speak with their teachers and choose which one to attend.
Remote sessions will run through Microsoft Teams and the lesson will appear on your child's Teams calendar.
Most sessions will take place in school. All students must use the Community entrance (late door) and wait to be escorted to rooms by teachers.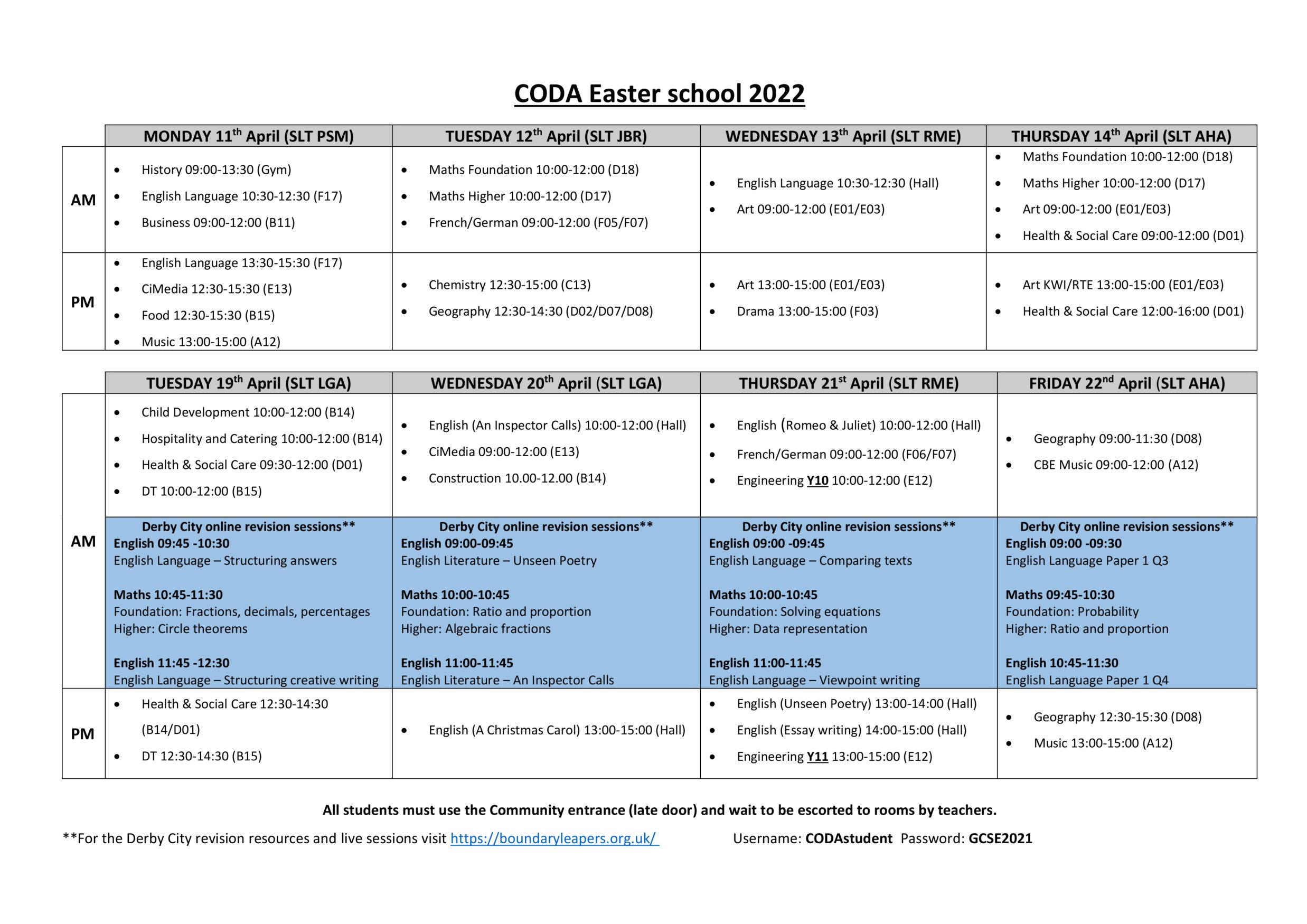 Students at City of Derby Academy sit both English Language and English Literature GCSE. Changes to the GCSE system now mean that students are being judged increasingly on their 'best English' grade making it important that students work hard for both of these GCSEs to achieve the best grades they possibly can.
Having just completed the mock exams, students can sometimes see this as a period to ease off their revision. However, in many ways getting into a good revision habit at this stage is even more important than it was before the mock period. Effective revision can ensure that the information used in the mock exams will stay in place ready for the real exams in the summer.
GCSE English Literature is a very demanding course with students studying a number of texts including: Romeo and Juliet by William Shakespeare; A Christmas Carol by Charles Dickens and An Inspector Calls by J. B. Priestley. Whereas in the old GCSE students were allowed to take copies of the texts they had studied into the exam, this is no longer permitted. In order for students to be best prepared for these challenging exams, it is crucial that they plan their revision well and start early.
To help students to prepare for this exam, we have put together a collection of revision resources and a schedule for using them below, which identifies a topic of the week for students. Each topic will be accompanied by an afterschool revision session 3-4 (Week 1 Wednesday / Week 2 Thursday). It also includes some more general revision tips about how to get organised. This schedule has been put together using the principle that a little revision done often, is one of the best ways to help learn and remember key details in preparation for an exam.
Students are able to access all revision materials through TEAMS and can request paper copies from their teachers.
Can I also take this opportunity to remind you that there are still some revision guide packs available for purchase, which cover both GCSEs. These can be paid for using Parent Pay at the cost of £7.50. Letters outlining the details of the guide are available from Mrs. Cunningham in F12.
English Literature Revision Schedule