Remote Learning at CODA – Student Guide
September 2021
Where do I need to get my work from?
To access your remote learning you will need to login to Microsoft Teams. To access Teams you will need to go to https://portal.office.com/ and login with your school details. There is a video guide on how to do use Teams on our website: https://www.cityofderbyacademy.org/remote-learning/
Teachers will set homework on Teams and there will be other resources to help you revise and review your learning. If you complete work on Teams then your teachers will give you extra classcharts points.
If you want to access additional online learning, or if you are an individual who is self-isolating, then you can log in to EdClass and select online lessons. There is a guide on how to do this on our website.
What work will you be set when school is closed for you?
You will carry to with your normal lessons when the school is closed to students. Your teachers will invite you to Microsoft Teams meetings for each of your lessons and registration. You will have work in a separate Team for each of your subjects.
Your teachers will teach you and give you tasks in each lesson. This may be slightly different in every class. You will have the opportunity to ask your teacher questions. You are expected to work like you would in school.
You are expected to work for at least 5 hours per day, like you would do in school.
What do we expect you to do?
Students are expected to attend all lessons remotely. Teachers will take registers of attendance and will follow up any absence.
Students are expected to behave according to our behaviour code. You are expected to only use the chat for work and to follow your teachers instructions. Teachers will follow the school behaviour code. They will reward your good behaviour, work and engagement with class charts points.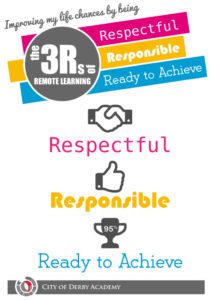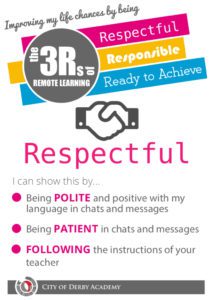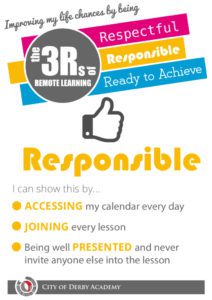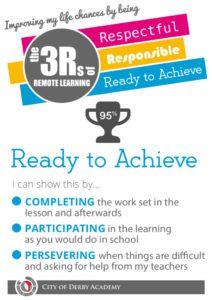 Other support and any if you have any problems:
Information for parents:
CODA-Remote Learning Parent Information 21-22
Getting Started with Remote Learning Parents Guide
If we have any concerns about attendance or wellbeing, our pastoral team may call you or visit you at home. This is to check that you are safe and to support you with any remote learning problems.
If you need any support logging on to our systems then please first use the resources on this webpage.
Or you can email ICTsupport@citofderbyacademy.org
If you cannot remember your password or if you do not have access to a computer or internet data then please call the school on 01332 270450.
If you need extra work or support with tasks, then email your teacher directly.