Connect is the City of Derby's on-site alternative provision for young people with a range of Social Emotional or Mental Health (SEMH) and Wellbeing needs. Connect is a specialist SEND intervention although offers Targeted SEND interventions for SEMH and Wellbeing. The Connect approach is Trauma and Attachment informed and seeks to understand the young person holistically to support them in achieving the best possible outcomes. Personal Development is central to the work done at Connect and seeks to see everyone as a unique individual and part of a "Connected" group. In addition to supporting CoDA and QEGSMAT values Connect have worked together to simplify aspects of these into the following three core values at Connect in line with our approach.
Safety – All staff, students and visitors need to feel safe at Connect both physically and emotionally making a safe space one of the most important things we seek to create together to support Regulate
Kindness – All staff, students and visitors are encouraged to be kind to each other and support each other even when it might be hard to. Everyone is encouraged to repair relationships that may have been hurt by unkind words or actions and Relate to each other
Mindset – All staff students and visitors are encouraged to challenge our own mindset and the mindset of others than may negatively impact on each other or our achievement
Connect Staff utilise evidence-based practice and the work of world-renowned physicians, psychologists, researchers and trauma informed educators to provide young people with a bespoke provision that best supports the needs of the individual students.
Connect work with a range of CoDA Mainstream teams and individual staff. We work very closely with the SEND team and pastoral teams to ensure the support is appropriate. Connect also has visiting teachers for specialist and qualification subjects to ensure quality first teaching and smoother transition to mainstream if appropriate.
Our Building
The Connect Centre is on the same site as the City of Derby Academy but has its own self-contained building, and outside space. The building consists of Classrooms, and Art Space and Life skills / Catering kitchen as well as social spaces, smaller intervention rooms and outdoor learning areas. The Connect Centre is a creative space and is continually adapting to the needs of the young people using it.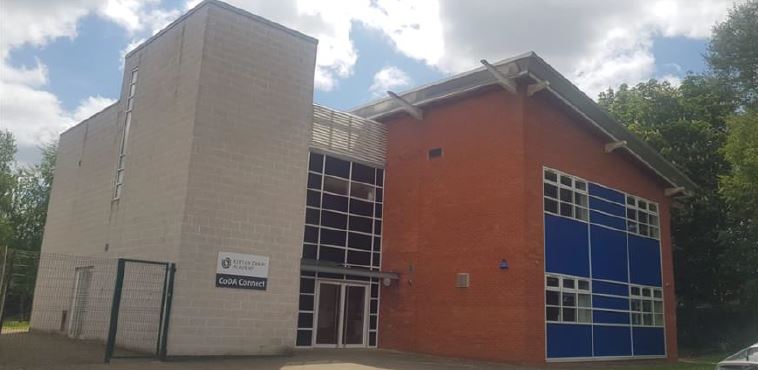 Mainstream Building Access
Connect students also have access to mainstream provision. Students access the Mainstream building for
PE lessons
Practical Science lessons (where appropriate)
Library lesson or reading interventions
SEND/EAL or additional support or interventions
Some assemblies or external speakers
Revision or Catch up sessions
After school clubs (where agreed)
Breakfast clubs (where agreed)
Exam arrangements (where appropriate)
Some option subjects (where agreed)
When on blended programmes of study
When transitioning back to mainstream
Lunchtime rota (where agreed)
Students accessing the main building need to adhere to the behaviour code for mainstream, including uniform, the use of phones, and communication. Students need to be consistently achieving 85% or above on their personalised targets to start transitioning back into mainstream education. This will be done in a planned way, in discussion with teaching staff, year team, parents and the leadership team.